Let's look at the tasks and events in salesforce, as well as creating and viewing existing these salesforce activities.
What are the Activities in Salesforce?
Salesforce activities include standard objects like tasks, events, and calendars. These activities help Salesforce event monitoring, scheduling meetings, and prioritizing tasks and workforces.

These activities are similar to those of outlook and are used to invite people for certain tasks, events, and so on.
Events, tasks, and calendars in Salesforce are related to records and profiles like accounts, contacts, leads, opportunities, and cases involved in customer servicing.
What are Events in Salesforce?
An Event in Salesforce is an activity that helps conduct meetings, gatherings, appointments, and similar events that have a scheduled time, date, and duration.

Event talks about "where" and has a start and end date/time
Log a Call, Send an Email.
Events help track meetings with customers, prospects, and colleagues on the calendar to drill down related records, files, contracts, reports, and more.
For example, a company needs to arrange a meeting with the client to show them their software services in detail, here schedules a meeting in virtual or real space.
What are Tasks in Salesforce?
A Task in Salesforce is an activity helps keep ups the to-do list and assign, track, and filter tasks lists and notifications of an organization that needs to be worked on.
A task may not have any specific time period or time duration for completion. Task talks about "What", and have a deadline.
Suppose your manager wants you to draft a follow-up email to a new client and collect the payment. He creates and assigns you a task to track updates.
Tasks and events in Salesforce
Tasks and events in Salesforce combined are known as Activities in Salesforce. Though they don't have a separate tab as they are dependent on other objects.
We can enable these activities on required objects when we need to assign a task or bring together a discussion for the same.
How to enable task/event features on an object?
In the Object definition page, we check the Allow activities. The feature can be enabled on already on created objects as well by Edit option.

We also need to add the "Related List" to the page layout section to view the activities in classic experience. While in lighting experience, we have a separate column window for activity features.
Terminologies to Events in Salesforce
Assigned To: The person who gets the responsibility for the event.
Invitees: We can invite 3 types of people for events in salesforce
Lead — A potential customer.
Contact — A customer.
They can be invited for an event even if they ain't on the Salesforce platform. They can create a user ID.
Both Leads and Contacts are standard objects, where we save information about "potential customer" and "current customer".
User invitation– Other employees of the company.
How to create new tasks and events in Salesforce?
Let us look into the detailed video tutorial to create a task and event in salesforce as related to the objects created.
In Classic experience, we create also create activities easily from user profiles as below;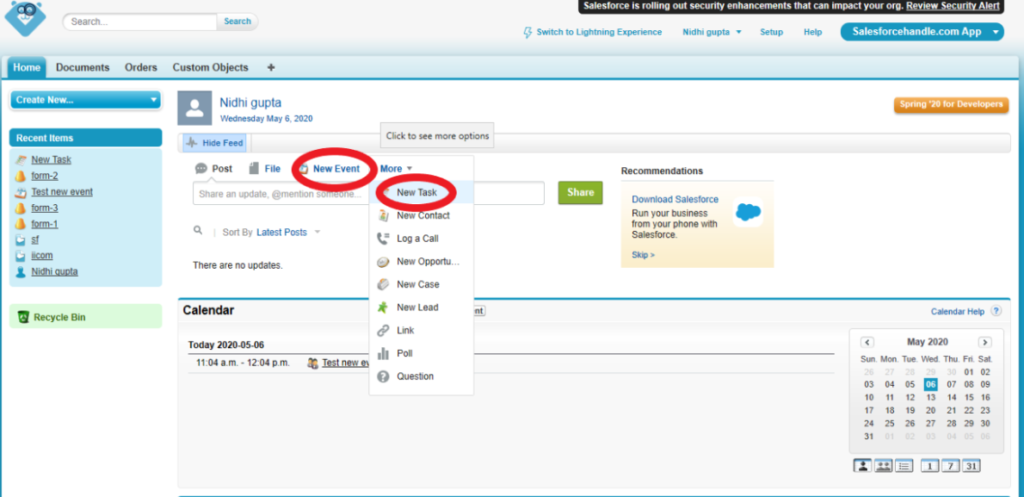 We switch to lightning and hereby find the below
Creating the tasks and events in Salesforce lightning experience is similar as shown below.
In real-time projects for a certain task created on an object or record, we can further create a "follow up task" as shown in the video tutorial.
We can create the salesforce activities in both the experience in a similar manner, while it reflects in both of them.
Only the applications created in Classic don't appear in Lightning experience on their own while all other internal fields and activities do.